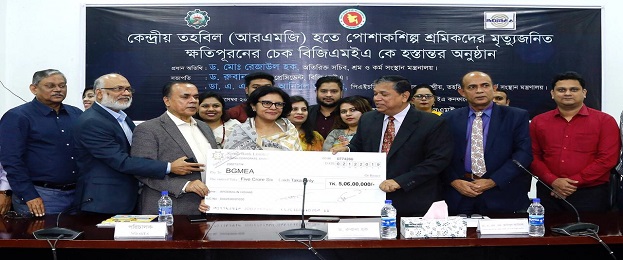 253 deceased workers' families to get BDT 50.6 million welfare assistance
Bangladesh Workers' Welfare Foundation has prepared an assistance of BDT 60.6 million for the families of 253 RMG workers, who died during their service period.
The foundation's Director General Dr. AMM Anisul Awal handed over the cheque of the amount to BGMEA President Dr. Rubana Huq on Wednesday.
The amount was given from the Central Fund which was created under the Ministry of Labour and Employment. Garment factories are contributing 0.03% of their export value to the fund for workers' welfare purposes.
Garment workers are also provided with financial assistance from the fund for their medical treatment while meritorious children of apparel workers are given stipends.
BGMEA Directors A.K.M. Badiul Alam and Masud Quader Mona and Additional Secretary of Ministry of Labour Dr Rezaul Haque, among others, were present on the occasion.
Video
Photo
Social Media
Keep yourself informed with up to the minute news, events and opinions via our Social Media channels.
Latest news