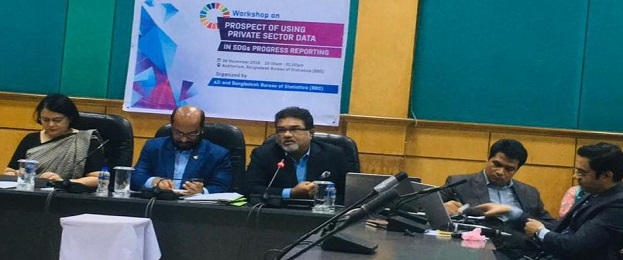 BGMEA Director Asif Ibrahim for reliable data on SDG
BGMEA Director Asif Ibrahim, on Sunday, said reliable data on the contribution of private sector to achieving SDGs is highly needed to track progress and take adequate investment decisions.
He came up with the remark while presenting the keynote paper at a workshop titled Prospect of Using Private Sector Data in SDGs Progress Reporting, organised by Access to Information (a2i) and Bangladesh Bureau of Statistics (BBS) in Dhaka this morning.
The BGMEA Director also stressed the need for greater dialogue among data communities, particularly between data producers and users, planners and policy makers, industry chambers, NGOs and other stakeholders to use data effectively in achieving SDGs.
Metropolitan Chamber of Commerce and Industry President Nihad Kabir attended the workshop as special guest while BBS Director General Mohammad Tajul Islam presided over the event.
The objective of the workshop was to sensitize the private sector officials for ensuring their active involvement in SDGs localization and effective SDGs achievement in Bangladesh.
Video
Photo
Social Media
Keep yourself informed with up to the minute news, events and opinions via our Social Media channels.
Latest news