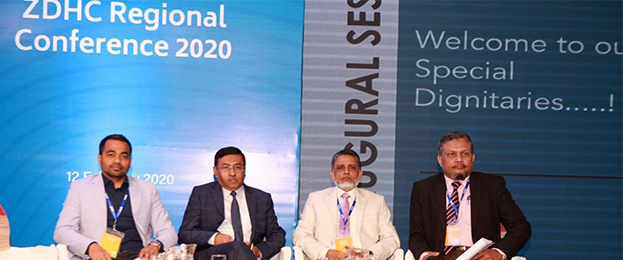 BGMEA Director emphasises stakeholders' partnership to phase out hazardous chemicals
BGMEA Director Md. Mohiuddin Rubel stressed the importance of meaningful partnership among stakeholders including brands, suppliers and development partners to phase out toxic chemicals from the supply chain.
He made the remark while addressing the regional conference of Zero Discharge of Hazardous Chemicals (ZDHC) in Dhaka on 12 February. He also appreciated the support of ZDHC partner brands for their continuous support, and said this initiative contributes to protecting natural environment and human health.
Executive Director of ZDHC Frank Michel, South Asia Director of ZDHC Prashad Pant, Sr. Vice President of BKMEA Mohammad Hatem, and MD Denim Expert Ltd. Pro-Vice Chancellor, BUFT Dr. Ayub Nabi Khan were also present in the first ever ZDHC conference in Dhaka. Managing Director of Denim Expert Ltd. Mostafiz Uddin delivered the keynote speech at the program.
Video
Photo
Social Media
Keep yourself informed with up to the minute news, events and opinions via our Social Media channels.
Latest news