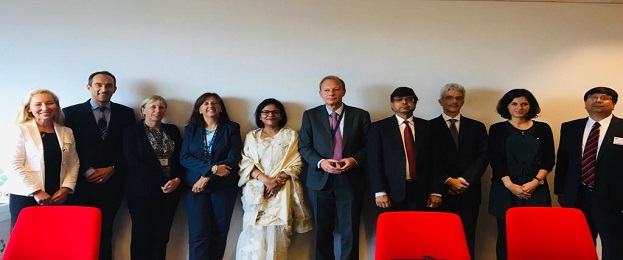 BGMEA President meets EU representatives to boost BD-Europe trade relations
The Bangladesh Garment Manufacturers and Exporters Association (BGMEA) President Rubana Huq had a meeting with EU representatives and discussed bilateral trade issues with them on Wednesday, September 18 at Brussels.
Rubana Huq urged the EU delegation, comprising of DG Trade of the European Commission Peter Berz, DMD of the European External Action Service Paola Pampaloni, Director of Sustainable Development Ewa Synowiec and advisor to DG Trade Nikolas Zaimis, to bolster trade relations with Bangladesh for mutual benefits.

The BGMEA president was accompanied by the Bangladeshi ambassador to EU, M. Shahdat Hossain and Commercial Counsellor MJ Quaiyum.
The meeting takes place ahead of the upcoming fact finding mission in Bangladeshi industries under EU's Everything But Arms deal, which was also discussed by the BGMEA president.
Video
Photo
Social Media
Keep yourself informed with up to the minute news, events and opinions via our Social Media channels.
Latest news