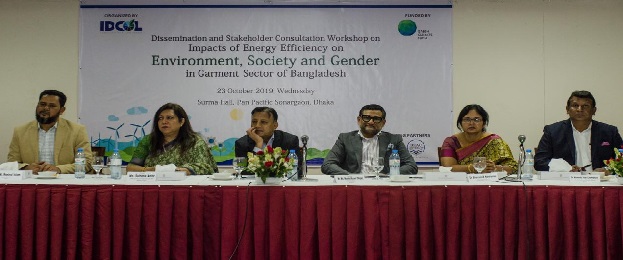 BGMEA VP Moshiul Azam addresses IDCOL workshop
Moshiul Azam Shajal, Vice President of BGMEA, addressed a dissemination and stakeholder consultation workshop on 'Impacts of Energy Efficiency on Environment, Society and Gender in Garment Sector of Bangladesh' as a special guest and panel discussant on October 23, Wednesday.
Highlighting the need for a better energy policy, the BGMEA VP said, "Our energy policy should be based on the growth potential and conducive for export earning manufacturing sectors."
"In the context of global business, landscape sustainability is a key area of concern as well as one of the main dealing points for business with apparel brands. Therefore, energy efficiency plays a key role not only in terms of social but also for the economic sustainability," he added.
Mr. Siddique Zobair, member & Additional Secretary (Energy Efficiency & Conservation) of SREDA , Ms.Sultana Afroz, Additional Secretary, wing Chief (UN), ERD, Dr. Sharmind Neelormi, Associate Professor of Jahangirnagar University, Dr. Ahmedul Hye Chowdhury, Vice President & Environmental Specialist of Renewable Energy, IDCOL were present at the panel discussion. Representatives from concerned ministries, development partners, banks and NBFIs, academicians, researchers, garment factories and associations were also present there.
The workshop was organized by IDCOL, KPMG Bangladesh and C3ER of BRAC University, as a part of their application for the Green Climate Fund at Pan Pacific Sonargaon hotel in Dhaka. IDCOL is now in a process of mobilizing low-cost green fund of USD$ 250 million for the garment sector in Bangladesh.
Video
Photo
Social Media
Keep yourself informed with up to the minute news, events and opinions via our Social Media channels.
Latest news