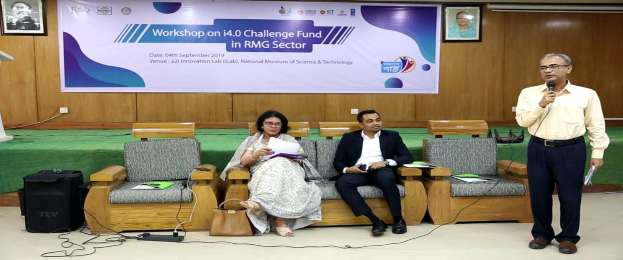 BGMEA and a2i to launch challenge fund projects
A joint workshop between BGMEA and a2i(Access to information in Bangladesh) decided to launch challenge fund projects from October 2019.
Titled 'Problem Identification for RMG Sector on Technological Innovation and Future Skills', the workshop was organized by a2i Innovation Lab on Wednesday.
The challenge fund project named 'Make it Right' will include projects on energy efficiency, water efficiency, chemical management, fire safety and air emission.
BGMEA members and officials, officials from BGMEA & BKMEA member factories, officials from ICT ministry attended the workshop. Dr Rubana Huq, President of BGMEA attended the workshop as the Chief Guest and Mr Mohiuddin Rubel, Director of BGMEA was present as special guest.
The workshop decided that BGMEA will nominate a factory within next 48 hours where the project of the "Emergency Evacuation System" will be piloted. This project was introduced on the house of which the name will be decided by honorable Prime Minister Sheikh Hasina. The model of 'Emergency evacuation system" was highly appreciated by the Chief Guest Rubana Huq as well as all the member attending the workshop.
The workshop also decided that 'Cute Dress Industry Limited" will be visited by a team of a2i on September 15, 2019 at 11 am. The team will be accompanied by Mr. Md. Mohiuddin Rubel, Director, BGMEA and Mohammad Monower Hossain, Sr. Deputy Secretary, BGMEA.
At the beginning two presentations concerning " Possible technological solutions " and "Finding emerging skills to tackle the challenges of automation in Bangladesh" were presented in the workshop. The whole participants were divided into three groups for discussion and identifying problems related to RMG sector. Following major problems were identified:
1. Manual Washing machine
2. Introduction of automatic multifunctional machine
3. Efficiency of Mid-level managers
4. IT education
5. Efficiency of ETP
6. Introduction of water metering
7. Echo-friendly chemical management
8. Innovation on efficiency of fire/safety arrangements
9. Structural safety
10. Air pollution and emission of gas.
Video
Photo
Social Media
Keep yourself informed with up to the minute news, events and opinions via our Social Media channels.
Latest news