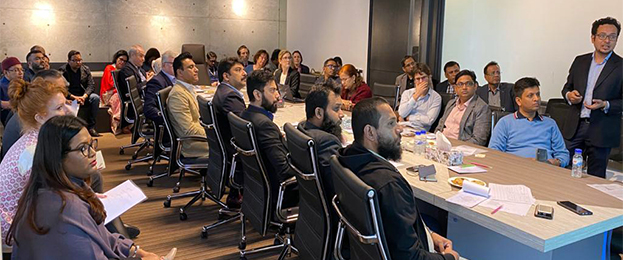 BGMEA monthly session on Green Growth held
BGMEA held its second monthly session on Green Growth. While paradoxically prices have fallen, the industry has continued going green.
On 25 Jan 2020, BGMEA's session on Green growth was attended by Danish Ambassador Winnie Estrup Petersen, ILO Country Director Tuomo Poutiainen, Deputy Head of Mission, Delegation of EU to Bangladesh Jeremy Opritesco, World Bank's Country Director for Bangladesh and Bhutan Mercy Miyang Tembon, Vice President, Global Manufacturing and Sourcing Ralph Lauren Sanjeev Dua, Director at Water Resources Planning Organization Taufiqul Islam, DoE Director Syed Nazmul Ahsan, Deputy Director of SREDA Nafees Rahman, Country Relation Manager, Bangladesh bluesign technologies Md. Shahan Reza, Program Manager at PaCT, IFC Nishat Chowdhury, Linda Germanis from UNDP, Rebecca Peters from Oxford University, CPD Research Director Dr. Khondaker Golam Moazzem, Deputy Chief Programming Division, Bangladesh Planning Commission Dr. Nurun Nahar, Coordinator of Textile Cluster at GIZ Werner Lange, BUET Professor Dr. Mohammed Abed Hossain, BGMEA Vice President Arshad Jamal (Dipu), and other Directors.
BGMEA President Dr. Rubana Huq moderated the session.
The presentation was followed by the attendees splitting into four groups to ideate on how to take the following conversations to the next level: 1) Green Community, 2) Green Financing, 3) Green Project and 4) Green Solutions.
The discussion was a vibrant discourse between government, industry, brand, development partners, think tanks and diplomats. The committees will convene next week and lay out outline of a national proposal.
Video
Photo
Social Media
Keep yourself informed with up to the minute news, events and opinions via our Social Media channels.
Latest news