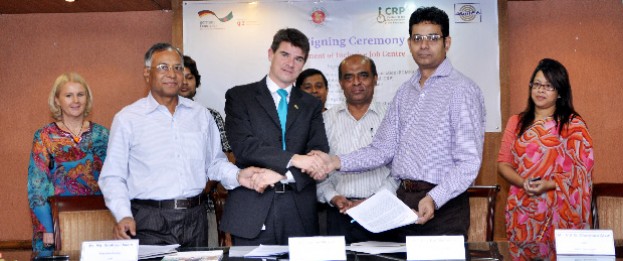 BGMEA signs MoU to set up job centre for persons with disabilities
Bangladesh Garment Manufacturers and Exporters Association (BGMEA), Deutsche Gesellschaft für Internationale Zusammenarbeit (GIZ) and Centre for the Rehabilitation of the Paralyzed (CRP) signed a MoU on 24 August to establish an Inclusive Job Centre at CRP-Mirpur.
The Centre will facilitate skills training, increase employment and career opportunities in the ready-made garment industry for persons with disabilities.
Reaz Bin Mahmood, Vice President (Finance), BGMEA; Dr. JochenWeikert, Programme Coordinator, GIZ and Md. Shafiq-ul Islam, Executive Director, CRP inked the agreement on behalf of their respective organizations.
A.B.M. KhorshedAlam, CEO, National Skills Development Council (NSDC) was also present on the occasion.
Video
Photo
Social Media
Keep yourself informed with up to the minute news, events and opinions via our Social Media channels.
Latest news