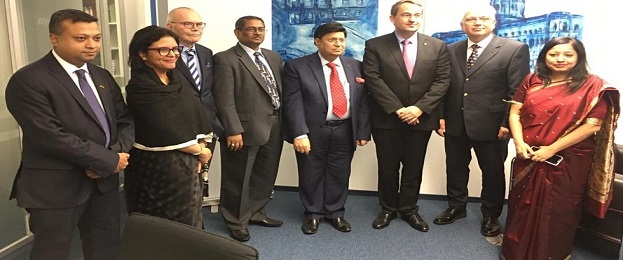 Bangladesh delegation meets German Foreign Trade Board
A Bangladesh delegation led by Foreign Minister AK Abdul Momen met with Michael Schumann, head of German Federal Association of Economic Development and Foreign Trade, on Friday.
The Bangladeshi envoy in Germany Imtiaz Ahmed, EU Director General at Bangladesh Foreign Ministry Andalib Elias, BGMEA President Dr Rubana Huq, Director General of Foreign Minister's Office (FMO) Samia Anjum, FMO Assistant Secretary for Western Europe and EU Affairs Md Nasir Uddin, Minister of Bangladesh Embassy in Berlin Murshidul Huq Khan, among others, were present at the meeting.
At the meeting, Dr Huq described various aspects of Bangladesh's RMG sector to the German side while the foreign minister expressed his hope that trade and commerce between Bangladesh and Germany will grow every day.
Video
Photo
Social Media
Keep yourself informed with up to the minute news, events and opinions via our Social Media channels.
Latest news