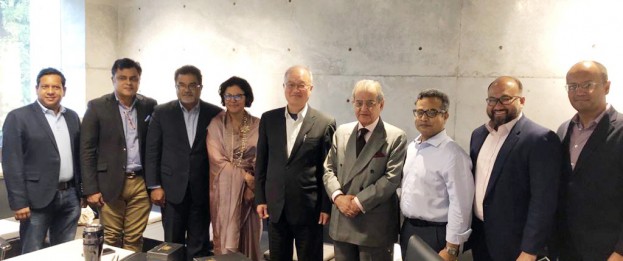 ITMF meets BGMEA President
President of International Textile Manufacturers Federation (ITMF) Kihak Sung called on BGMEA President Dr. Rubana Huq at the BGMEA PR and Media cell yesterday.
They had a meeting on different trades issues including backward linkage, attracting FDI, policy supports for industry, Trade and Investment Cooperation Forum Agreement (TICFA) between US, Bangladesh, Japan, Korea, and opportunities in Chinese market.
Kihak Sung said that Korea would be a good market to focus on as market condition is better for trading.
BGMEA Directors Iqbal Hamid Quraishi (Adnan) and Asif Ibrahim, Chairman of BGMEA Standing Committee on PR Khan Monirul Alam (Shuvo), Chairman of BGMEA Standing Committee on RDTI and SDGs Affairs Wasim Zakariah, and former BGMEA Director Abdullah Hil Rakib were also present at the meeting.
Kihak Sung is also the Chairman of Korea Federation of Textile Industries (KOFTI) and Youngone.
Video
Photo
Social Media
Keep yourself informed with up to the minute news, events and opinions via our Social Media channels.
Latest news