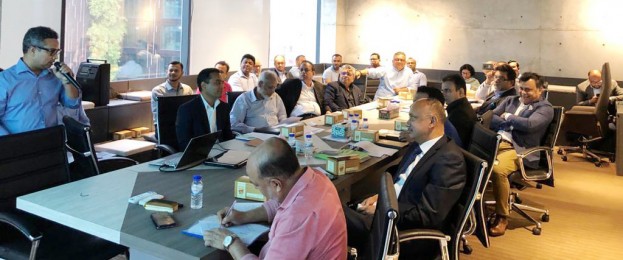 Meeting on IE and productivity held at BGMEA
An interactive meeting was held at BGMEA to devise action plans for enhancing competitiveness of the RMG sector by improving productivity through Industrial Engineering and innovation.
The meeting was organised as a part of BGMEA's efforts to assist garment factories with knowledge and expertise in enhancing their productivity through IE implementation and product innovation.
BGMEA President Dr. Rubana Huq presided over the meeting held on 7 March.
BGMEA Snior Vice President Faisal Samad, Vice President Arshad Jamal (Dipu), Directors Mohammad Abdul Momen, Md. Shahidul Haque Mukul, Iqbal Hamid Quraishi (Adnan), Asif Ibrahim, Chairman of BGMEA Standing Committee on PR Khan Monirul Alam (Shuvo), Chairman of Standing Committee on Branding Mijanur Rahman, Chairman of Standing Committee RDTI and SDGs Affairs Washim Zakariah, Chairman of Standing Commitee on Floor Price and Cos Review Md. Abdul Jalil and former BGMEA Director Abdullah Hil Rakib attended the discussion.
Chairman of BGMEA Standing Committee on IE and Productivity SM Khaled made the keynote presentation in the meeting.
BGMEA has taken an initiative of establishing "A productivity and Innovation Centre" on the BGMEA premises. The center will work in 4 different areas:
1. Industrial Engineering
2. Product Development
3. Innovation
4. Sustainability and Competitiveness
Video
Photo
Social Media
Keep yourself informed with up to the minute news, events and opinions via our Social Media channels.
Latest news