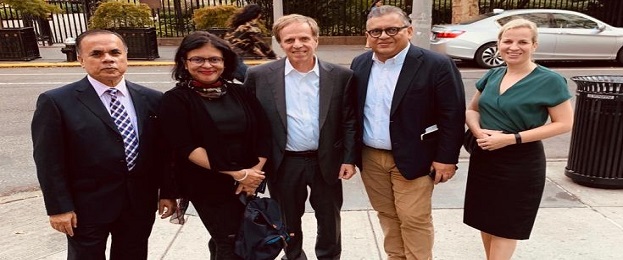 Rubana Huq discusses RMG's incredible journey in BD with Michael Posner
BGMEA President Dr Rubana Huq on Wednesday met Michael Posner, Professor of Business and Society at New York University Leonard N. Stern School of Business, and discussed the incredible journey of readymade garments (RMG) sector in Bangladesh.
Mentioning a NYU Stern report on subcontracting which was published a few years ago, Dr Huq said the BGMEA agreed with that report on the common commitment to transparency in all strata of manufacturing despite having disagreement on figures.
"Approaches were different, but our goals were the same," said the BGMEA chief.
She also reiterated her respect for Michael Posner stating how she continued to hold him in the highest esteem.
Dr. Rubana Huq stated these after the duo met again in front of Gramercy Park in New York on Wednesday and had a candid, frank and engaging conversation.
"We do need to share our better stories with the world. And I hope friends like Mike will always be around," observed Dr. Huq.
Video
Photo
Social Media
Keep yourself informed with up to the minute news, events and opinions via our Social Media channels.
Latest news