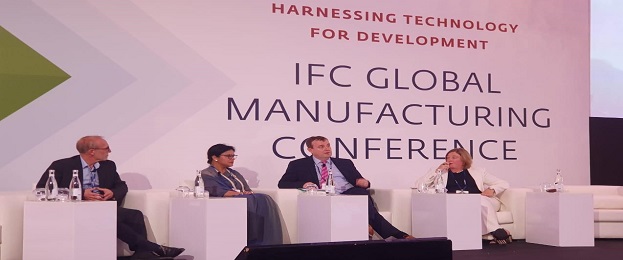 Rubana Huq urges for green labor
BGMEA president Dr. Rubana Huq sided in favour of adopting eco-friendly approaches for apparel industries as well as rebranding labor while attending the second IFC Global Manufacturing Conference 2019 taking place in Marrakesh, Morocco.
Automated sewing machines in Arkansas factory can produce a t-shirt in 30 seconds to cater to 25% of the US consumption of t-shirts, grossly trivializing the current production rate of 2%.
Referring to this example, the president of BGMEA indicated towards the adverse impact automation has on labor and urges for rebranding labor and using eco-friendly measures.
Along with BGMEA president Dr. Rubana Huq, Dan Rees, Director at Better Work, International Labour Organization, Tania Lozansky, Head of Advisory Services for Manufacturing, Agribusiness and Services at International Finance Corporation; Didier Bonne, Director at Festo Didactic FR+; Sharif Zahir, Managing Director, Ananta Apparels were also present in this discussion.
Video
Photo
Social Media
Keep yourself informed with up to the minute news, events and opinions via our Social Media channels.
Latest news