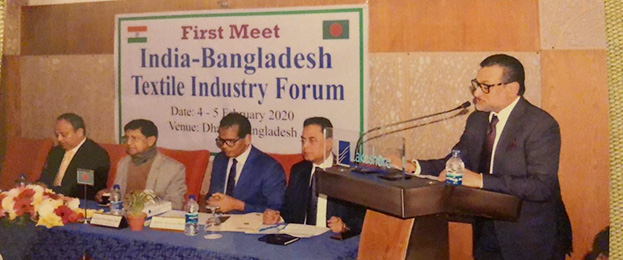 VP Moshiul Azam emphasizes Bangladesh-India collaboration for mutual trade benefits
BGMEA Vice President Md. Moshiul Azam (Shajal) underscored the importance of collaboration between Bangladesh and India in apparel and textile sectors for bilateral trade benefits.
India is a promising market for Bangladesh to export apparel, he said adding that India is one of the major markets for importing raw materials for Bangladesh RMG industry.
He made the remark while addressing the first meeting of India-Bangladesh Textile Industry Forum in Dhaka on 5 February.
Textile and Jute Minister Golam Dastagir Gazi (Bir Protik) MP attended the program as chief guest.
Indian High Commissioner to Bangladesh Riva Ganguly Das, Indian Textile Ministry Secretary Sh. Ravi Capoor and Vice President of FBCCI Md. Siddiqur Rahman also attended the program.
Video
Photo
Social Media
Keep yourself informed with up to the minute news, events and opinions via our Social Media channels.
Latest news