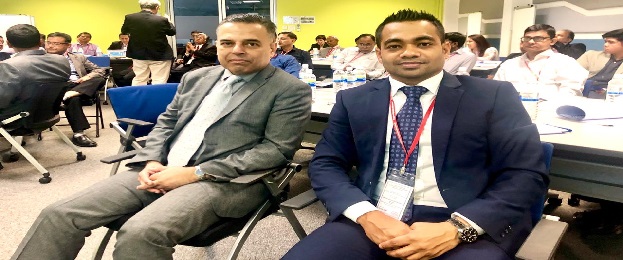 Workshop for Leaders on Industrial Skills Development begins in Singapore
A workshop for leaders on Workforce Skills Development for Industry 4.0 is taking place at Singapore Polytechnic, Singapore from September 09-11 to develop the proficiency of the workers in traditional industries.
Singapore Polytechnic with the support of Temasek Polytechnic and a grant from Temasek Foundation (TF) is collaborating with a2i to arrange this workshop.
Director Md. Mohiuddin Rubel is participating in the programme from BGMEA.
This is a TVET (Industry 4.0) Programme for Bangladesh that aims to build the capabilities of 160 stakeholders by explaining to them the concept of i4.0 to develop i4.0 National Training Frameworks for four adjusted sectors: i) garment and textile; ii) light engineering; iii) agro food; and iv) tourism and hospitality.
Training of 40 National Resource Persons of Bangladesh will also take place, as they will work with academic/ TVET institutions to enhance the existing TVET programmes based on this arrangement as newly trained TVET (i4.0) Skills Facilitators.
The group of 40 delegates from Bangladesh include leaders from ministries, Government Agencies, Industry Associations, Industries and Academic/TVET Institutions across the four identified sectors.
Through study visits and dialogues, the delegates will gain insights into Singapore's i4.0 strategy and examine the impact of i4.0 technologies and industries and the training ecosystem in Singapore.
The programme includes seven components in order to facilitate the understanding of the trainees about the strategy, transformation and workforce skills of their workplaces.
It will also help them to comprehend a pilot future skills initiative for implementing in their respective organizations.
Video
Photo
Social Media
Keep yourself informed with up to the minute news, events and opinions via our Social Media channels.
Latest news