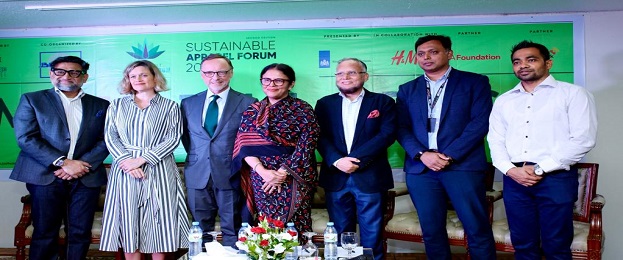 Sustainable Apparel Forum in Dhaka next month
The second edition of Sustainable Apparel Forum (SAF) will be held in Dhaka on November 5, 2019. This announcement was underlined by the organizers at a media briefing held on Monday, October 14 at a hotel in Dhaka.
The Sustainable Apparel Forum (SAF) presents a platform that heralds 'sustainability agendas' within the textile and apparel supply chain in Bangladesh. Their first-ever forum was held in 2017 in Dhaka.
The objective of this year's forum is accelerating the momentum of sustainability in Bangladesh apparel industry.
This year's forum will witness more than 50 speakers gathered from Bangladesh and overseas sharing their expert opinions in a total of five panel discussions. The panel discussions will cover current critical issues to the country's apparel industry such as human resource, transparency, water, purchasing practice and climate change etc.
With the discussion and recommendations made at the panels a Sustainability Roadmap for Bangladesh apparel industry will be formulated.
Bangladesh Apparel Exchange (BAE) along with Bangladesh Garment Manufacturers and Exporters Association (BGMEA) as the co-organizer will jointly carry out the 2nd edition of the SAF.
The Netherlands Embassy is the title sponsor of the SAF while H&M, Better Work Bangladesh and C&A Foundation are partners in the event.
Monday's press briefing was attended by Netherlands Ambassador in Bangladesh H.E. Harry Verweij, Swedish Ambassador H.E. Charlotta Schlyter, BGMEA President Dr. Rubana Huq, Founder and CEO of Bangladesh Apparel Exchange Mostafiz Uddin, BGMEA Vice President (Finance) MA Rahim (Feroz), Vice President Md. Moshiul Azam (Shajal) and Director Md. Mohiuddin Rubel. H&M Country Manager for Bangladesh, Pakistan and Ethiopia Ziaur Rahman was also present there.
Video
Photo
Social Media
Keep yourself informed with up to the minute news, events and opinions via our Social Media channels.
Latest news