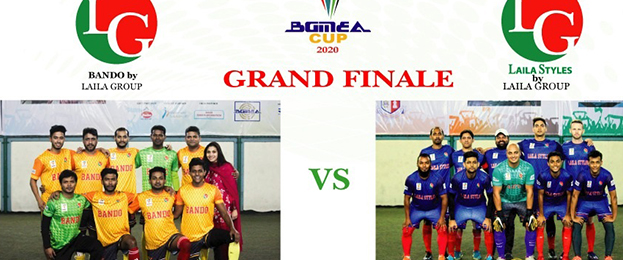 5th BGMEA CUP final on 28 February
The Grand Finale of the 5th BGMEA CUP Inter-Garments Football 2020 will kick off at 4.00 PM on 28 February at Bangladesh Army Stadium.
More than 7000 spectators are expected to come to the stadium to witness the final between BANDO DESIGN and LAILA STYLES, both owned by LAILA GROUP.
The final match will be broadcast live at Nagorik TV. The event is organized by Bangladesh Garments Manufacturers & Exporters Association (BGMEA). This corporate football event is accredited by The International Federation of Corporate Football (FIFCO).
The winner of the final will get the opportunity to represent Bangladesh at the World Corporate Champions Cup to be held in October 2020. BGMEA CUP is sponsored by BGMEA University of Fashion and Technology, DBL Ceramics, Twelve Clothings, SAILOR and others. Dhaka Tribune has been the Print Media Partner. A nail-biting finish to the biggest and most hyped corporate football tournament of Bangladesh is expected.
Video
Photo
Social Media
Keep yourself informed with up to the minute news, events and opinions via our Social Media channels.
Latest news