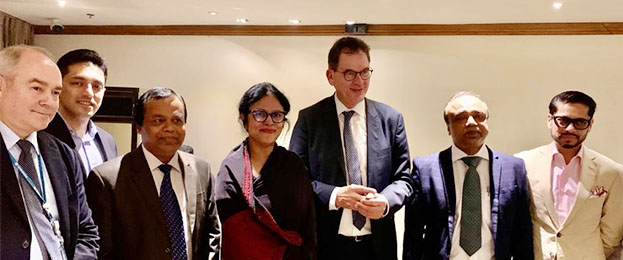 BGMEA leaders meet German Minister Gerd Müller
Yesterday the leaders of BGMEA led by President Dr. Rubana Huq met German Federal Minister for Economic Cooperation and Development Dr. Gerd Müller in Dhaka where they discussed RMG Sustainability Council (RSC).
ILO Country Director Tuomo Poutiainen, Inspector General of the Department of Inspection for Factories and Establishments Shib Nath Roy, Additional Secretary at the Ministry of Commerce Md. Obaidul Azam, BGMEA Directors Miran Ali and Sharif Zahir also attended the meeting.
The German Minister arrived in Dhaka on Tuesday on a two-day visit to Bangladesh.
Video
Photo
Social Media
Keep yourself informed with up to the minute news, events and opinions via our Social Media channels.
Latest news