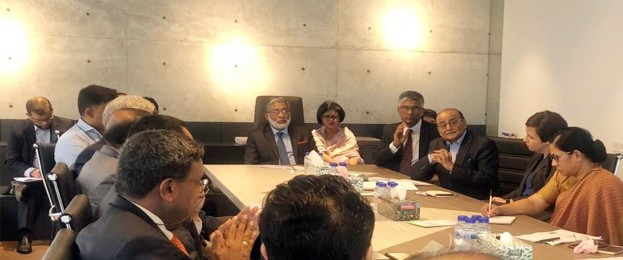 BGMEA monthly session on Sector Diversification held
BGMEA held its third monthly session with focus on exploring avenues towards sector diversification which has become imperative for the sustainable growth of economy.
Executive Chairman of Bangladesh Investment Development Authority (BIDA) Md. Sirajul Islam, BIDA Secretary Dr. Abdul Hamid, Bangladesh Tariff Commission Chairman Tapan Kanti Ghosh, IFC Country Manager for Bangladesh, Bhutan and Nepal Wendy Werner, Chairman of Policy Research Institute Dr. Zaidi Sattar, Regional Country Manager at H&M Ziaur Rahman, Coordinator Textile-Cluster at GIZ Werner Lange; Senior Vice President at HSBC Ashfaqur Rahman, MD and Country Officer at Citibank Bangladesh Shekar N. Rajashekaran, BGMEA Director Sharif Zahir.
BGMEA President Dr. Rubana Huq moderated the session.
The session started with the presentation on sector diversification in Bangladesh. The presentation focused on the immediately linked sectors, the economic complexity and product space of the export basket in different countries and the proposals for sector diversification program with an overview of the foreign sector diversification cases.
The immediate steps which were recommended for fast-track outcome include:
1. Cross sector collaboration among government agencies, academia, thinktanks and business organizations is required to identify potential sectors.
2. Initiating group discussions to identify the champions who have successfully ventured into non-traditional sectors to learn effectively from their experiences regarding the potentials of the respective sectors, challenges, required policy supports and measures for protecting them to grow, and the need for supply side capacity building to scale up.
3. Once the sectors are identified and selected, the next move would be to form a Sector Development Council or an advisory group with the following representatives which will spearhead investments.
4. Promoting SMEs and local heritage through online portal
5. Carrying out research and development to support and facilitate the diversification process of different identified sectors not only by means of market and investment feasibility assessment, but also in terms of preparing project profiles, sourcing machineries/ equipment / raw materials, financing, etc.
Video
Photo
Social Media
Keep yourself informed with up to the minute news, events and opinions via our Social Media channels.
Latest news