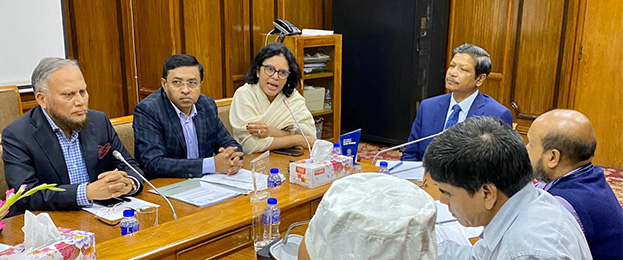 BGMEA urges Bangladesh Bank to include FCR for receiving cash incentive
BGMEA President Dr. Rubana Huq urged the Bangladesh Bank to include Forwarder Cargo Receipt (FCR) in the existing rules for receiving cash incentive on RMG exports.
She made the call in a meeting with Deputy Governor of Bangladesh Bank Ahmed Jamal at the central bank on 27 February.
As per the central bank guideline, exporters have to submit Bill of Lading – a document presented as proof that the products have been exported – to receive the incentives.
Currently, big global brands prefer the FCR, which is equivalent to the BL. However, banks do not accept the FCR as it is not mentioned in the Bangladesh Bank rules, creating problems for those exporters who get FCR from their buyers.
The Deputy Governor assured of considering FCR issue to ease the problem. BGMEA Vice President (Finance) MA Rahim (Feroz) was also present at the meeting.
Video
Photo
Social Media
Keep yourself informed with up to the minute news, events and opinions via our Social Media channels.
Latest news