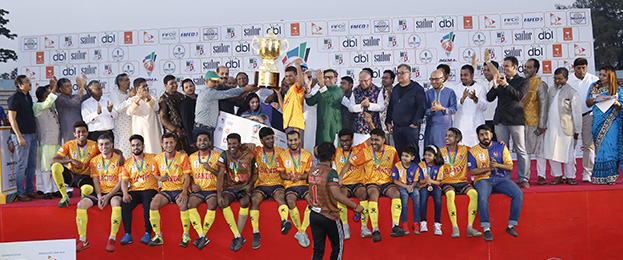 Bando Design Champion of BGMEA Cup 2020
Bando Design Limited clinched the title of the 5th edition BGMEA Cup football tournament-2020 beating Laila Styles Limited by 4-0 goals in the final match at Bangladesh Army Stadium on 28 February.
Commerce Minister Tipu Minshi, MP handed over the champion and runner up trophies while DNCC Mayor Md. Atiqul Islam, BGMEA Vice Presidents and Directors, former BGMEA Presidents were also present on the occasion.
Imran of Bando was awarded man of the match while Shakil of the team best player of the tournament.
BGMEA has been organizing the football tournament since 2016. This year, a total of 16 teams divided into four groups took part in the event held at International Hope School Bangladesh's Astro Turf playground in Uttara of the capital.
The participating teams included Epyllion Group, Bando Design, Comfit Composite, Torque Fashions, Laila Styles by Laila Group, Fortis Group, Apparel Industry, Aspire Garments, Musk Trousers, Ali Garments, Self-Innovative Fashions, Mehnaz Styles and Crafts, Onus Group, Sterling Group, Apparels Village and Tusuka Group.
The event was organized by BGMEA and sponsored by BUFT, SAILOR, DBL CERAMICS, TUSUKA & ANANTA. Nagorik TV was the broadcast partner with IHSB being the venue partner.
Video
Photo
Social Media
Keep yourself informed with up to the minute news, events and opinions via our Social Media channels.
Latest news