BGMEA Director Asif Ibrahim speaks at Asia Pacific Climate Week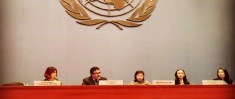 BGMEA Director Asif Ibrahim spoke in the plenary session of Asia Pacific Climate Week in UNESCAP on private sector role in climate change.
He highlighted that BGMEA has joined the Fashion Industry Charter for Climate Action.
Climate Action is an initiative convened by the United Nations (UN) with a commitment to reduce 30 percent greenhouse gas (GHG) emissions by 2030.
Published: 2019-09-07
Video
Photo
Social Media
Keep yourself informed with up to the minute news, events and opinions via our Social Media channels.
Latest news