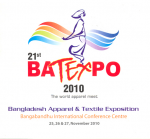 Bangladesh's largest fair for the apparel sector started on 25 November 10.
The three-day textile exposition, Batexpo-2010, will be organised at Bangabandhu International Conference Centre in the capital by Bangladesh Garment Manufacturers and Exporters Association.
At a press briefing yesterday at BGMEA office, its President Abdus Salam Murshedy said the fair aims at promotion and expansion of global market for Bangladesh's readymade garments.
The sector's leader is upbeat on a wider participation of foreign buyers this time in the exposition of textiles, clothing and accessories.
Murshedy said, "We expect more buyers this year because the world economy is going to rebound from the two-year long recession."
A huge number of buyers from USA, Canada, UK and Middle Eastern and Southeast Asian countries are expected to throng the biggest fair of its kind in Asia and the Pacific region.
Around 89 organisations from India, Pakistan, China, Hong Kong, Japan, Thailand, Brazil and Bangladesh will showcase their products through 137 stalls.
The fair last year bagged spot orders worth $41.64 million.
Pointing to a 38 percent growth in RMG exports in the last four months despite economic downturn, BGMEA chief said Bangladesh had been able to expand its market to Japan, Australia, Mexico and Chilli during the time.
However, he also pointed to the fact that the industry counted a Tk 2,000 crore loss because of the prevailing energy crunch.
"We faced another Tk 900 crore loss, as we had to export apparels by air because there are problems at Chittagong port," Murshedy said.
This year a separate corner will be established with the internet, phone and fax in the fair for international buyers.
A reception corner has already been opened at Shahjalal International Airport to help buyers find their accommodation and transportation.
Premier Bank is sponsoring the Batexpo-2010.
Published: 2010-11-25
Video
Photo
Social Media
Keep yourself informed with up to the minute news, events and opinions via our Social Media channels.
Latest news