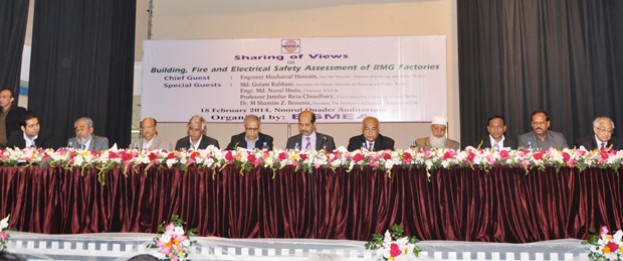 Govt to take measures to ensure building safety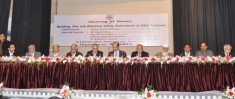 A monitoring body is needed to give approval to the foreign engineers those who will work with Alliance and Accord to inspect factory buildings as the foreign inspectors cannot understand and are not involved with our environment.
Housing and Public Works Minister Engineer Mosharraf Hossain said this at a views exchange meeting on 'Building, Fire and Electrical Safety Assessment of RMG Factories' arranged by Bangladesh Garment Manufacturers and Exporters Association (BGMEA) on Tuesday, February 18.
"Discussing with the Prime Minister, we will take necessary steps to avoid any possible misunderstanding during inspection process followed by Accord and Alliance", he said.
Md. Atiqul Islam, BGMEA President chaired the meeting while Professor Jamilur Reza Choudhury, Vice-Chancellor of the University of Asia Pacific, Engineer Md. Nurul Huda, RAJUK Chairman and Dr. M Shamim Z Bosunia, President of The Institute of Engineers, Bangladesh (IEB) were present as special guests.
Professor Jamilur Reza Choudhury said that Rana Plaza is not the only instance of building collapse in the world as deadly building collapse has also been taken place in the US and Canada also. To avoid such horrific building collapse like Rana Plaza it needs to relocate the factories to purpose-made buildings and considering the context of the country it would take time, he said.
He also emphasized on the necessity of forming a new detail area plan (DAP) as the Dhaka city and its surroundings has been changed widely over the decade.
Published: 2014-02-18
Video
Photo
Social Media
Keep yourself informed with up to the minute news, events and opinions via our Social Media channels.
Latest news