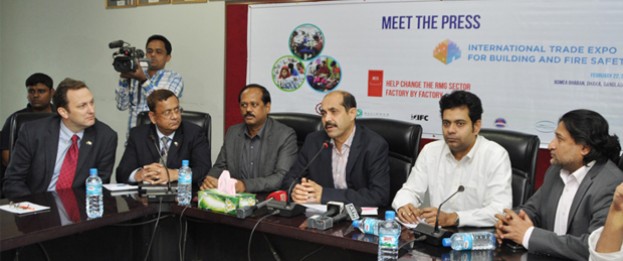 International Trade Expo on Building and Fire Safety to begin Feb 23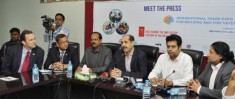 The International Trade Expo on Building and Fire Safety, first of its kind in Bangladesh, will be held at Pan Pacific Sonargaon Hotel from February 23-24.
BGMEA President Md Atiqul Islam told journalists at a press briefing held at the conference room of BGMEA in the capital on February 22.
Managing Director at Alliance for Bangladesh Worker Safety Mesbah Rabin, Vice President of BGMEA Md Shahidullah Azim, Vice President (Finance) Reaz Bin Mahmood were also present at the press briefing.
Commerce Minister Tofail Ahmed will attend the inaugural ceremony of the expo as chief guest while State Minister for Foreign Affairs Shahriar Alam and State Minister for Labor and Employment Mojibul Haque Chunnu as special guests.
The expo will provide participants and exhibitors with an opportunity to learn more about ways to work together to improve the building and fire safety within the readymade garment industry in Bangladesh.
C&A Foundation, Alliance, IFC, BGMEA and BKMEA are jointly organizing the event.
A total of 32 renowned national and international building and fire safety equipment providers will participate in the expo and display their products. Moreover, representatives from at least 65world famous buyers will visit the expo.
At the two-day event, experts from home and abroad will deliver 8 lectures on building and fire safety.
The exposition will remain open from 8:00 am to 7:30pm.
Published: 2014-02-22
Video
Photo
Social Media
Keep yourself informed with up to the minute news, events and opinions via our Social Media channels.
Latest news