MoU signed between BGMEA and EngenderHealth Bangladesh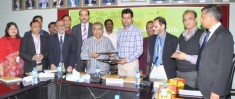 BGMEA and Mayer Hashi Family Planning Project (MH-II), EngenderHealth Bangladesh signed a Memorandum of Understanding (MoU) at BGMEA conference room on Wednesday (19 February 2014) to facilitate family planning services for garment workers of the country.
Under the MoU, BGMEA and EngenderHealth Bangladesh will work jointly towards making family planning services available for the garment workers through 12 healthcare centers and 1 hospital of BGMEA.
Around 4.4 million workers are employed in the garment industry of Bangladesh; of them 80% are women. But due to lack of education and proper information most of the apparel workers are not aware of family planning and reproductive health.
Under the project the garment workers will be made aware about family planning and reproductive health and provided with family planning materials for free.
Reaz Bin Mahmood, Vice President (Finance), BGMEA, and Dr. Abu Jamil Faisel, Project Director, MH-II and Country Representative, EngenderHealth Bangladesh, signed the MoU on behalf of their respective organizations.
BGMEA President Md. Atiqual Islam, Faikuzzaman Chowdhury, Joint secretary and Director (Finance), DGFP, Dr Moinuddin Ahmed, Line Director, CCSDP, DGFP, and Ehsan Ul Fattah, Secretary General of BGMEA, among others, were present at the MoU signing ceremony.
Published: 2014-02-19
Video
Photo
Social Media
Keep yourself informed with up to the minute news, events and opinions via our Social Media channels.
Latest news