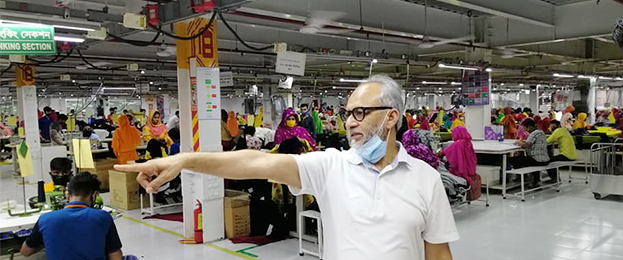 Salute to Mr. Shamsuddin and all the heroes whose stories remain untold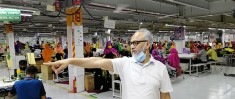 When the factories reopened in April 26 after a month of lockdown, apprehension started soaring and criticism pouring in from every corner, instilling fear of looming disaster in the RMG sector due to COVID pandemic! But what we have seen now is a sharp contrast to the scenario that was widely speculated.
Yes, infection in the RMG industry is insignificant after four months of operating factories amid the pandemic.
The success surprised many, but it has not been easy. It has been possible due to the tireless efforts from the industry and sincerity and sacrifices from the entrepreneurs.
A. B. M Shamsuddin, the chairman and owner of Hannan Group, is a shining example of how workers were cared for to protect them the pandemic. He has fought a tough battle against Covid 19 in Bangladesh. And he came out victorious in flying colours.
When the factories reopened in April 26, Mr. Shamsuddin, 65, rented nine buildings in Gazipur to make sure all of his 12,000 workers were well taken care of and are quarantined if they were suspected to have been infected with the Covid 19.
Despite of hardship caused by rampant order cancellation from buyers, Mr. Shamsuddin hadn't left his workers alone in the difficult time. Rather he made sure that these suspected workers don't spread the disease in their homes and communities. Each of the suspected workers were screened with the help of a medical team of six doctors and same numbers of nurses.
His company paid for their food, medicine and every tiny thing they needed when they were quarantined. He bought flux for each of them so that they can drink hot water and ginger, cardamom laced tea. All the workers were paid of their wages including Eid bonuses. He organised Covid tests for suspected workers at his cost. The suspects spent a mandatory 14 days in the quarantine centres and the infected stayed there as long as it took them to recover.
Two months later all the workers have recovered and they resumed work. It cost him 20 million taka. "It was like a war of independence," said Mr. Shamsuddin, who as a 15-year-old boy went to Major Haider in 1971 to join our liberation struggle.
"It was an experience of lifetime. When all my friends confined themselves at home, I was in the middle of a war. And by the grace of Almighty Allah, none of our workers have died or lost jobs," he said.
Mr. Shamsuddin is a shining example of how many factory owners fought this battle - but their stories remain untold. While it's true he has gone to extraordinary length to ensure safety for his workers, and not everyone has the same capacity, it is also true that each factory owner tried their level best according to the best of their ability to ensure workers safety. This industrywide effort has resulted in the success of limiting the infection to such small percentage.
We salute Mr. Shamsuddin and all the heroes whose stories remain untold.
Published: 2020-09-02
Video
Photo
Social Media
Keep yourself informed with up to the minute news, events and opinions via our Social Media channels.
Latest news