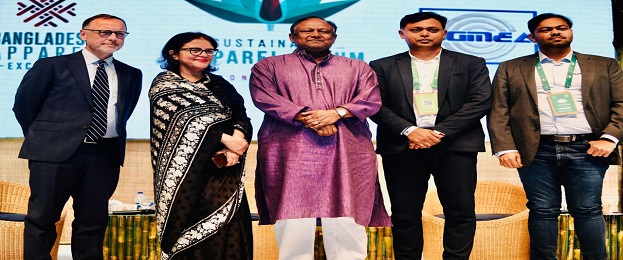 Second SAF ends promoting sustainability in Bangladesh's RMG industry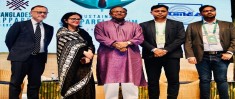 With the aim of accelerating the momentum of sustainability in Bangladesh apparel industry, Bangladesh Apparel Exchange (BAE) and BGMEA jointly organized the second edition of Sustainable Apparel Forum (SAF) on Tuesday.
The event was held at International Convention City Bashundhara (ICCB) in Dhaka.
DNCC Mayor and Former BGMEA President Atiqul Islam, State Minister for Foreign Affairs Md Shahriar Alam, Canadian High Commissioner to Bangladesh Benoit Prefontaine, Head of Sustainability for Global Production of H&M Group Pierre Borjesson and BGMEA Director and BAE Managing Director Mohiuddin Rubel were present at the Opening Plenary of the SAF.
Commerce Minister Tipu Munshi, Ambassador of the Netherlands in Bangladesh Herry Verweij, BGMEA President Dr Rubana Huq, H&M Regional Country Manager Ziaur Rahman, and BAE Founder and CEO Mostafiz Uddin attended the Closing Plenary of the event.
There were five panel discussions on human, transparency, water, purchasing practices and climate change where BGMEA Directors Miran Ali, Professor Mohammad Abdul Momen, Sharif Zahir and Asif Ibrahim, among others, participated as distinguished Panel Speakers.
The Sustainable Apparel Forum is a global forum on sustainability established in Bangladesh to promote the sustainability agenda within the textile and apparel supply chain.
The Forum facilitates a meaningful exchange of knowledge to demystify issues surrounding sustainability for the benefit of factories and individuals.
Published: 2019-11-07
Video
Photo
Social Media
Keep yourself informed with up to the minute news, events and opinions via our Social Media channels.
Latest news