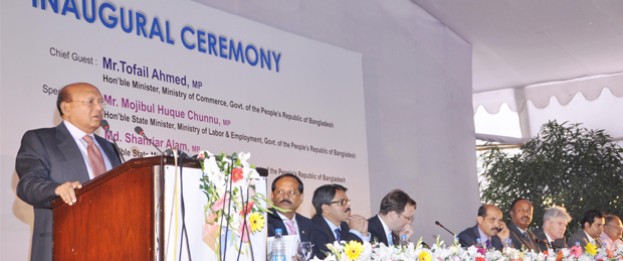 Time and fund sought for factory remediation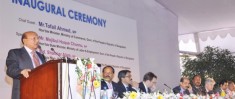 The International Trade Expo for Building and Fire Safety began in the capital on February 23.
Commerce Minister Tofail Ahmed inaugurated the exposition at Pan Pacific Sonargaon Hotel in the morning.
C&A Foundation, International Finance Corporation, BGMEA and BKMEA have jointly organized the two-day expo to introduce participants and visitors with world-class fire and electrical equipment and create awareness about building and fire safety in RMG industry.
A total of 32 local and international firms will showcase fire doors, sprinklers, fire hoses and electrical equipments in the event.
State Minister for Foreign Affairs Shahriar Alam and State Minister for Labor and Employment Mojibul Haque Chunnu were present at the program as special guests. BGMEA President Md Atiqul Islam, Vice President Shahidullah Azim and Vice President (Finance) Reaz Bin Mahmood also attended the inaugural ceremony.
In his address, BGMEA President Md Atiqul Islam urged the government to make the import of all fire and electrical equipment for RMG industry duty-free.
He also called on Alliance and Accord to allow sufficient time and allocate adequate fund to complete the building remediation process in RMG industry successfully. "Facilitate the factories in getting the fund quickly for the remediation," the BGMEA President added.
The expo will remain open from 9:00am to 7:30pm.
Published: 2014-02-23
Video
Photo
Social Media
Keep yourself informed with up to the minute news, events and opinions via our Social Media channels.
Latest news